John Nicols
President and Chief Executive Officer
As President & CEO of Codexis since June 2012, John has been at the helm of the company through its turnaround and subsequent growth, positioning Codexis as a leader bringing protein-based innovations into a growing list of partnerships and industries. Prior to Codexis, John worked in various business leadership roles for more than 22 years at Albemarle Corporation, a maker of highly engineered specialty chemicals. There, John lead the growth of the company's largest, billion dollar plus global catalyst business, turned around a struggling half billion dollar fine chemicals business, and expanded and globalized Albemarle's flame retardants business. A native of New York City, John and his family have lived widely across the USA, and also enjoyed an exciting three year assignment in Tokyo, Japan in the late 1990's. John received a bachelor's degree in chemical engineering from the Polytechnic Institute of New York University (now NYU) and an MBA from the Massachusetts Institute of Technology.
Ross Taylor, MBA
Senior Vice President and Chief Financial Officer
Ross Taylor has over 20 years of healthcare financial leadership experience. Most recently he was CFO of Abaxis, a point-of-care diagnostics company serving the veterinary and human healthcare markets, and he previously was that firm's vice president of business development and investor relations. Prior to Abaxis, Mr. Taylor worked for more than 20 years in equity research at various Wall Street firms including CL King & Associates, UBS, and Smith Barney. Mr. Taylor holds an MBA from Columbia Business School with concentrations in accounting and finance, and a bachelor's degree in economics from Duke University.
Karen Frechou-Armijo
Senior Vice President, Head of Human Resources
Ms. Frechou-Armijo is an accomplished human resources leader with over two decades of human resources experience, holding increasingly senior positions within life sciences and technology companies. Most recently, she served as Vice President, Human Resources at Cepheid, a molecular diagnostics company and part of the Danaher family of operating companies. During her tenure, she lead Cepheid's workforce through rapid expansion and transformation, increasing employee headcount by greater than seven times over a five year period. Prior to Cepheid, Ms. Frechou-Armijo held senior Human Resource roles at Broadcom, where she led workforce strategy, change management and talent management. She also previously held human resources management roles with Molecular Devices, KPMG, and Genencor. She is known for leading through a culture of innovation, collaboration and continuous improvement. Ms. Frechou-Armijo received her B.A. from California State University, Chico.
Gjalt Huisman, Ph.D.
Senior Vice President, Strategic Development & General Manager, Biotherapeutics
As a founding scientist of Codexis (2002), Gjalt Huisman is a 20-year veteran in the application of Directed Evolution technologies. He joined Codexis' mother company Maxygen in 1998 and since then had leadership roles in various internal and collaborative programs. In 2013 he initiated Codexis' Biotherapeutics group which discovered CDX-6114 for potential treatment of PKU. He is the co-inventor of more than 50 patents. Earlier in his career, he was a founding scientist at Metabolix. A native of the Netherlands, Dr. Huisman received his PhD from the University of Groningen, and performed post-doctoral studies at Harvard Medical School.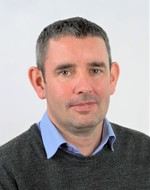 Rob Wilson, Ph.D.
Senior Vice President & General Manager, Performance Enzymes
Rob Wilson leads the Performance Enzyme strategic business unit for Codexis and has been with the company since 2006. He has held a variety of business-operational roles at Codexis, across Biotherapeutics and Performance Enzymes, in postings in Europe, Asia and the USA. Prior to joining Codexis, Rob worked for 7 years in various business-technical roles for Avecia - a major UK-based custom manufacturer of intermediates and APIs for the Pharma industry. Today, Rob is P&L responsible for Performance Enzymes and leads a broad-based team at Codexis, responsible for building business and executing projects in existing and emerging markets for the industrial application of improved proteins. He earned a BSc in chemistry and a Ph.D. in organic chemistry from the University of Leeds in the UK.
Stefan Lutz, Ph.D.
Senior Vice President, Research
Stefan Lutz joined Codexis in 2020 as the Senior Vice President of Research to lead the company's research team advancing the discovery of proteins. Prior to his arrival in Redwood City, he was a Professor and Chair of the Chemistry Department at Emory University, having joined the university in 2002 and ascending to Chemistry Department Chair in 2014. In addition to his academic work, he has consulted for AgriMetis and served on the scientific advisory boards of ZuvaChem, CODA Genomics Inc. and SynBioX Inc. Stefan has co-authored more than 65 articles published in peer-reviewed journals and six technical books and journals. He holds six patents and is a frequent lecturer and speaker. Dr. Lutz received a B.Sc. in chemistry/chemical engineering from the Zurich University of Applied Sciences, an M.Sc. in Biotechnology from the University of Teesside and a Ph.D. in chemistry from the University of Florida. He was a postdoctoral fellow at Pennsylvania State University.
Karl Schoene, Ph.D.
Senior Vice President, Development & Operations
Dr. Schoene joined Codexis in 2020 as Senior Vice President of Development and Operations. He will be leading Codexis' manufacturing and supply chain operation teams to developing, scaling and commercializing Codexis' growing suite of products discovered in small scale under our CodeEvolver® process. He most recently served as President, CEO and Director of Elevance Renewable Sciences, positions he held for four years after first serving as Chief Technology Officer. During his tenure, he led the rapid development of high-performing, environmentally friendly specialty chemical products, managed international joint ventures and oversaw product manufacturing using the company's proprietary technology. Prior to Elevance, he worked for 15 years at companies such as Accutest, InEnTec, and AkzoNobel. Since 2013, Dr. Schoene has served as Chairman of Ionic Solutions LLC, a firm he founded to advise businesses in the medical, pharmaceutical, chemical, energy and adjacent industries. Dr. Schoene holds a B.S. in chemistry and a Ph.D. in physical chemistry from the University of Virginia, where he was also appointed to the faculty as an instructor of physical chemistry.
Robert Sato, Ph.D., MBA
Senior Vice President, Pharmaceutical Development, Quality & Regulatory
Bob Sato joined Codexis in 2007 as the Director of Analytical Development & Quality Control and his responsibilities have since expanded to include Quality and Regulatory. He brings close to 30 years of fine chemical and pharmaceutical industry experience in GMP Quality Control, analytical development, physicochemical characterization and preformulation/formulation development. His pharmaceutical development work has contributed to a wide range of successful regulatory filings in the therapeutics space, most recently where he provided crucial support leading to the success of Codexis' first Phase I clinical trial.